Screening: At the Heart of Manitoba's francophone community
Every day • Free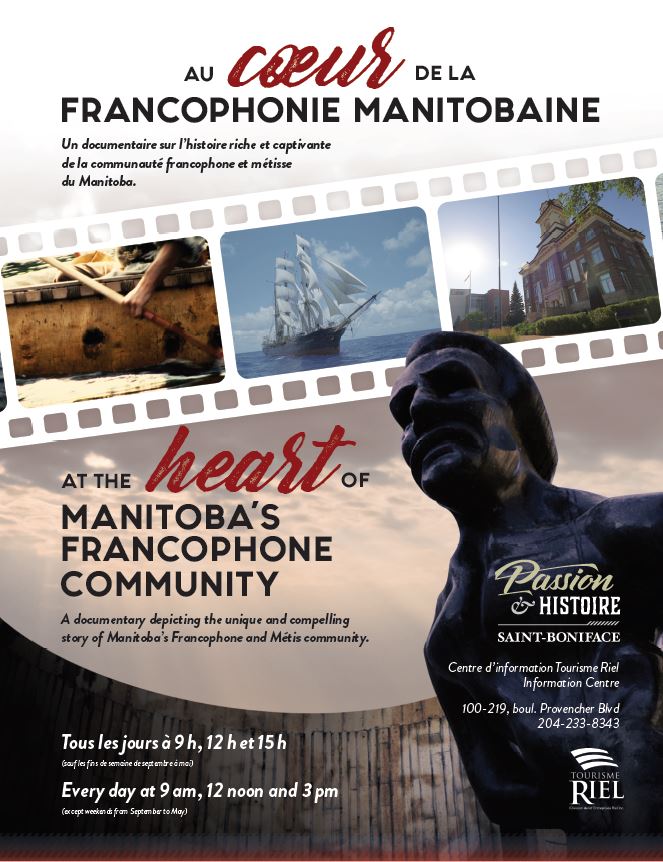 Enjoy this 40-minute documentary which tells of Manitoba's rich French heritage, which is deep-rooted and has greatly influenced the development of our province and our country.  From the French explorer Pierre Gaultier de Varennes, Sieur de La Vérendrye's first visit to the Red River in 1738, to the vibrant, exciting Francophone communities peppered across our province today, this narrative is still being written in a most colorful way.  The film explores the trials, tribulations, determination, achievements and the joie de vivre of a community once expected to fade into the history books but has nonetheless persevered and is thriving today.
The 40 minute film is shown daily at Tourisme Riel's visitor information center located at 219 Provencher Boulevard.
During Saint-Boniface Célèbre,  viewers will be treated to a free popcorn and water.
Date
Every day
Time
9 a.m. (French); 12 p.m. (English); and 3 p.m. (French)
Admission fee
Free
Place
Tourism Riel Information Center
219 Provencher Blvd (old St-Boniface City Hall)
Winnipeg MB R2H 0G4
204-233-8343
Type of event
Documentary screening
Organised by
Tourisme Riel